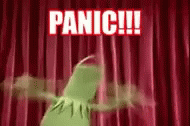 Is it time to hit the panic button ? The Calgary Flames, with their loss last night against the league-leading Tampa Bay Lightning, are now in a three-game losing streak which they've only experienced three times this season. The cause for concern? Their play as of late. The past month has seen a decline in their overall game. Management is no doubt looking closely at this team, and how they're faltering in adversity. We all know games change post All-Star break. The push for the playoffs intensifies play, and whether Calgary can stand up to the shift that is usually a little bit heavier, is the question. But now there are more questions.
The Flames haven't been playing well from top to bottom. The defensive game has dropped significantly. Although there have been injuries, the likes of TJ Brodie has regressed as of late. On offence, the Flames sport one elite line, a great shutdown line, and two lines full of buy-ou options and penalty killers. In goal, we thought Big Save Dave was the answer but he's put in a couple of weeks worth of questionable starts. That leaves Mike Smith between the pipes and fans don't want to see that regular occurrence.
So where does that leave the Flames today? Well one thing is for sure something is going to happen at the deadline. We can assume that defensive help is on the way, unless Mike Stone is not able to play. We also know some help up front would be great since the James Neal experiment is a complete and total bust. In goal, well there are very few options so one shouldn't expect moves here. Who a trade will bring in and whether it will help in time is the unknown.
One thing is for sure, if there was a time to falter and figure out there game, it would be in February not in April. The next few games will be telling to see how the Flames respond.
It's not time to panic…yet.